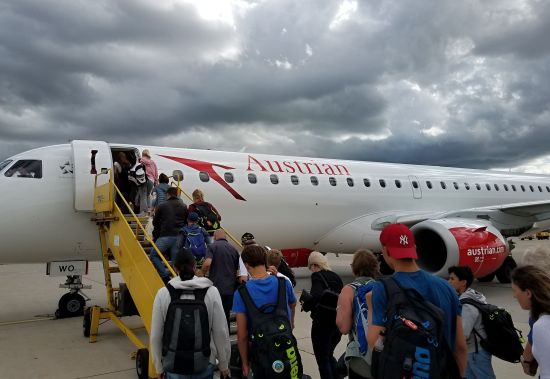 Final decision about the Austrian Charter, to our Island. Yes, it begins, each Sunday, starting from the 05th of July until the 27th of September.
| | | | |
| --- | --- | --- | --- |
| | Flight Nr. | Departure | Arrival |
| Flights from Vienna | OS2111 | 09:20 | 12:25 |
| Flights from Skyros | OS2112 | 13:05 | 14:15 |
Intertravel.at has every intention to develop Skyros' program (at this very difficult year) so that it succeeds.
The reservations so far cover by average of the 13 flights (1600 people), 75% of the total available airplane seats (meaning 1170 people).
As we have been informed by the head of Intetravel.at, Roman Hollman, a full-page advertisement of Skyros is being prepared, for Sunday the 28th of June, at the largest-circulation Austrian newspaper, Kronen – Travel Edition, in order to promote some low coverage dates.
Let's wish for many new bookings, but overall, WE, THE SKYRIAN BUSINESSMEN, WILL STRICTLY FOLLOW THE REGULATIONS REGARDING HYGIENE AND PROTECTION AGAINST COVID-19.
OUR SO FAR SUCCESS (ZERO CASES) MUST CONTINUE, NOT ONLY UNTIL THE END OF THE SEASON, BUT ALSO AFTER.
LET'S MAKE IT HAPPEN, BECAUSE IT IS IN OUR HAND, BUT ALSO BECAUSE WE SKYRIANS STAND OUT.
GOOD START
Lefteris Trakos
Skyros Travel